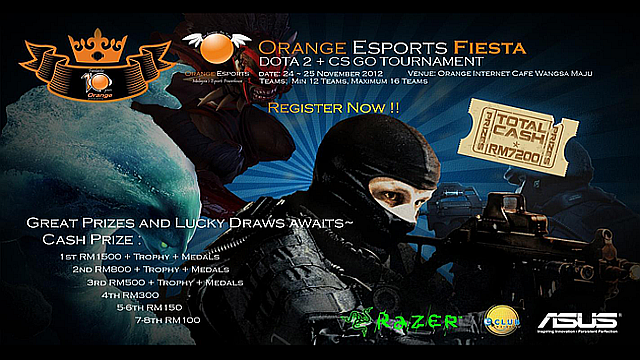 Orange eSports are throwing a party! Everyone's invited, RM 7200 on offer!
On the 24-25th November, Orange eSports are throwing open their doors at the Orange internet cafe in Wangsa Maju and holding a celebration of all things eSports! The two day event will hold serious competitions for DotA 2 and CS:GO and will also hold mini games booths and showcase of the latest in gaming gear, there will also be lucky draws throughout the event so who knows, you may win a prize! This is sure to be an exciting event with a great atmosphere as well as obviously the RM 7,200 up for grabs.
The tournament will have a maximum of 16 teams and a minimum of 12. The second day will see the final matches between the last few teams and the awarding of the prizes. It sure looks to be a great event so if you are in the area on the dates, be sure to check it out!
Prizes for both CS:GO and DotA 2 tournaments are as follows;
1st – RM 1500 + Trophy + Medals
2nd – RM 800 + Trophy + Medals
3rd – RM 500 + Trophy + Medals
4th – RM 300
5-6th – RM 150
7-8th – RM 100