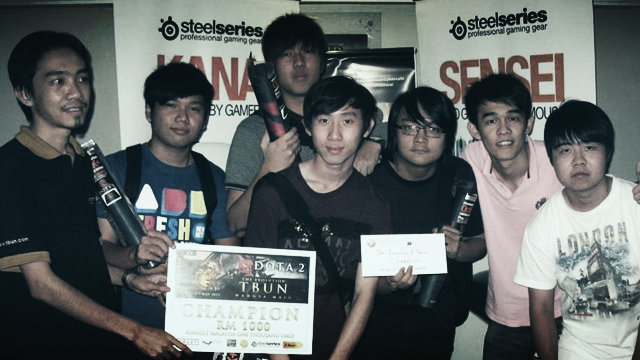 Invasion Red upset MUFC in the Gosucup, we sat down with Shengg for an interview
The Malay team captain in a quick interview between tournament stages
We sat down together with Wilson 'Shengg' Quak, team captain at Invasion Red. In this week-ends Gosucup Invasion Red managed to make a huge upset by beating the 1st seeded MUFC team in the 4th round.
Now they have advanced into the half-finals, where they will meet up with Flash Esports. We interviewed them after their victory over MUFC. For a quick overview over the Gosucup tournament, visit our coverage item.
Hi Shengg, thank you for the interview. Please give us a quick introduction of you and your team.
I'm shengg from Team Invasion. Currently we play with our new roster after ohy moved to MUFC; which is Fz, Snow, xiaobai, Mr.Ghost and me.
How long have you been playing DotA/DotA 2, and together as team under this roster?
I have been playing DotA for 4 years and DotA 2 since the start of January 2012; Gosucup is the first tournament under this roster
After the ohy left, do you think the squad was much better? or its as good as before? Are there any major differences in your playing style since then?
After ohy left , I think the squad is much more stabilized because xiaobai is my old partner from the Orange Academy team. We played support for quite some time together and the major difference is the draft now. We are switching to a 1-2 carry draft now, compared to a no carry draft last time when we were playing with ohy.
You have attended GEST Malaysia Qualifier 2 weeks ago, and went out in the first round against Devouring Dead. What happened?
At that time we were seeking for new player and didn't make it on time, so we asked our manager, John Lim to play for us as stand-in. But things just didn't work out; the chemistry wasn't there =)
Now 2 weeks later and you've made a considerable upset by beating the favorites MUFC in GosuCup Asia 1, congratulations on that! Please tell us about your preparation and the match
Thank you. We just prepared normally and I think due it being a best-of-1 game everything can happen. But the main reason of winning was maybe the outdrafting. We were expecting a Naga and Venon pick from them and decided to face a safe lane Naga with es and Batrider and things worked out well. Void was the reason of winning the game because we think that a bkb Void is able to counter Naga and Tide Hunter combo
When did you realize that you're going to win the game?
After a 5-0 fight at the bottom Tie 2 tower around the 18th minute.
Alright, in the quarter finals you are about the meet NoeQ and possibly the winner from x5 vs MSIevoGT. How do you see your chances going further in this tournament?
It's very hard to predict because its a best-of-1 game and anything can happen. I'm looking forward to see what pinoys got in Dota2 – they will surprise us.
Before Invasion you have played competitively with Mushi in Orange Academy, then you switched to become a captain in Invasion Red and are still going strong months later. What are your further plans with the team after this tournament?
I am planning to finish the upcoming big tournaments which are The Asia and SMM. After that I may be quitting the scene to focus on my studies (or just to play local tournament for fun), if I still do not manage to find a suitable team that's worth to stay and play for the next T13.
The purpose of our new roster is to finish the upcoming tournaments as promised.
Alright, a few months ago in an interview you have planned on switching to micro intense heroes. How did that work out for you?
Haha, that's a 'mission impossible' for me…
Haha, so are you more the thinker of the team?
Yes, together with snow
Alright, last but not least, how did you find the transition from DotA to DotA 2 so far?
It's quite hard at first and it took me some time to adapt to it. The second thing is the draft phase, because some heroes are missing in DotA 2. I still prefer the original DotA =)
Shengg, thanks for the interview. Do you have any shoutouts do your fans?
Thanks to everyone who's supporting us ~~ Have a nice day !! Thank you for the interview =)
Invasion Red vs MUFC, part 1
Invasion Red vs MUFC, part 2